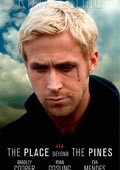 Luke verdient seine Brötchen als Motorradstuntman. Unterwegs trifft er zufällig Romina wieder, die aus einem One-night Stand mit ihm einen Sohn zur Welt gebracht hat. Das kommt für Luke überraschend, aber der Neue Vater will seinen Sohn finanziell unterstützen. Mit einem Bekannten raubt er Banken aus. Natürlich muss dabei etwas schief gehen. Nach einem Zeitsprung treffen sich der Sohn des ehemaligen Polizisten, der Luke einst gejagt hat und Lukes Sohn, die etwa gleichalterig sind und Freunden sich an. Bis eines Tages die Wahrheit ans Licht kommt.
An das Aussehen von Ryan Gosling muss man sich erst einmal gewöhnen, wenn er zutätowiert und mit einem Shirt, das zudem linksherum gedreht ist über die Leinwand fegt. Eine coole Socke ist er auch hier allemal. Allerdings folgt nach knapp einer Stunde Spielzeit ein gewaltiger Bruch, der wohl nicht nur Gosling-Fans erschüttern wird. Was danach kommt nimmt schnell an Fährt auf und lässt die Spannung sogar noch ansteigen. Als man sich als Zuschauer schon auf dem Höhepunkt freut, wird man wieder vor einen Bruch gestellt. Das ist nun wirklich eine gute Spur zu viel des Guten, wirkt überfrachtet und sehr vorhersehbar. Dazu nervt der Jugendlichen-Slang nur noch und lässt the Place beyond the Pines derbe umkippen.
Schade – hier wäre weniger mehr gewesen.