Home » Spiele » Order of the Gilded Compass
Order of the Gilded Compass ist ein Würfeleinsetzspiel für 2-5 Spieler. Bei diesem Spiel übernehmen die Spieler die Rolle von Schatzjägern, um die Einladung für die geheime Gemeinschaft der privilegiertesten Archäologen zu erhalten. Dafür suchen die Spieler auf dem gesamten Globus nach den fantastischsten und wertvollsten Artefakten.
      2 – 5        10+      30-60 min
Durch das Einsetzen ihrer Archäologistenwürfel in den richtigen Orden zur rechten Zeit, erhalten die Spieler Schatzkarten und Spezialisten, tauchen nach versunkenen Schätzen, ergattern rare Funde im Auktionshaus und nutzen die Hilfe von "Illuminati". Der Spieler mit den meisten und wertvollsten Schätzen am Spielende erhält die Einladung in den "Order of the Gilded Compass" und gewinnt.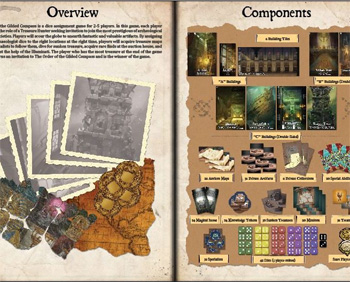 Order of the Gilded Compass nutzt einen variablen Spielaufbau, um eine interessante und frische Spielerfahrung zu kreieren. Jedes Spiel zeigt 5 verschiedene Orte, in denen die Spieler ihre Würfel platzieren können, um verschiedene Schätze oder Boni zu erhalten. Das Spiel beinhaltet 9 dieser Orte, was viele einzigartige Kombinationen erlaubt.
Order of the Gilded Compass ist die Neuauflage des ausverkauften Spiels "Alea Iacta Est" von 2008, mit einem neuen Thema und mehr Spieloptionen.
» Deutsche Spielregeln (2 MB).
» Englische Spielregeln (4,3 MB).
» Missionskarten (EN) (1,27 MB).
» Hunter&Cron, Essen 2016 (DE)
» Interview Opinionated Gamers (EN)
» Dice Tower Rezension (EN)
» Origins Sommervorschau (EN)
» Gencon Special (EN)
» Boardgamegeekeintrag
» Spieleverlag  Grey Fox Games
» Alea Iacta Est = Order of the Gilded Compass