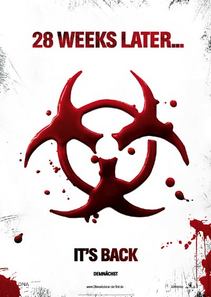 Der Nachfolger von 28 Days later (wer hätte das geahnt?) fängt da an, wo der Vorgänger geendet hatte. Die Infizierten haben nahezu die gesamte Weltbevölkerung dahingerafft und sind nun ihrerseits aufgrund der Nahrungsknappheit am "Aussterben". In einem Teil Londons haben sich Überlebende zusammengerottet und versuchen ein normales Leben zu führen, abgeschottet von der Außenwelt. Natürlich kommt das Virus irgendwie doch in die abgesperrte Zone und der Kampf beginnt von neuem.
Klingt altbekannt? Ist es auch – spätestens Altmeister Romero schuf mit Land of the dead ein identisches Szenario, das weitaus mehr begeistern konnte und schockierender war.
So bleibt ein recht überflüssiges Sequel, für das man den Kinobesuch meiden sollte.